Gift to Establish Scholarship for University Ambassadors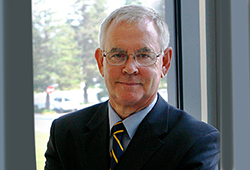 Roger Pugh believes strongly in the value of the campus tour when deciding where to go to college, especially when the tours are guided by enthusiastic, engaged students. He gained a particular affinity for the student tour guides at CSU Stanislaus during his eight years with the University, where he served as Associate Vice President for Enrollment Management until his retirement in 2009.
Pugh has now committed to further supporting the success of CSU Stanislaus' tour guides. He recently included the University in his estate plan, with a charitable pledge that will create a scholarship fund for students in the University Ambassadors program.
"For high school students and their parents, a campus tour can be the deciding factor in their choice of school," Pugh said. "The University Ambassadors at CSU Stanislaus represent their school with professionalism and friendliness. They bring value to the University, and I am proud to be able to give something back to them."
Noelia Gonzalez, Director of Admissions and Financial Aid at CSU Stanislaus, said the University Ambassadors program dates back to the early 1980s, and around 450 students have been ambassadors over the years. In a given year, there are usually between 15 and 25 ambassadors, and many of them serve throughout their academic career.
The University Ambassadors frequently go into professional careers in the community, Gonzalez said, becoming educators, social workers, doctors, police officers, counselors and business leaders.
"These students are the face of the University and are often the first point of contact for prospective students, families and community members," she said. "They leave a lasting impression due to the enthusiasm, hard work and energy they put into representing the University. They believe in the University and our mission, and they often are our most enthusiastic alumni."
Pugh, a lifelong college sports fan who is spending much of his retirement traveling around the country to football games and other sporting events, will also donate a portion of his estate toward scholarships for Warrior student-athletes.
"I have always enjoyed college sports and have been around it my whole career, being in admissions and working with coaches," Pugh said. "I've been good friends with the athletic directors and many coaches here at CSU Stanislaus, and I just want to try and help out in some small way."